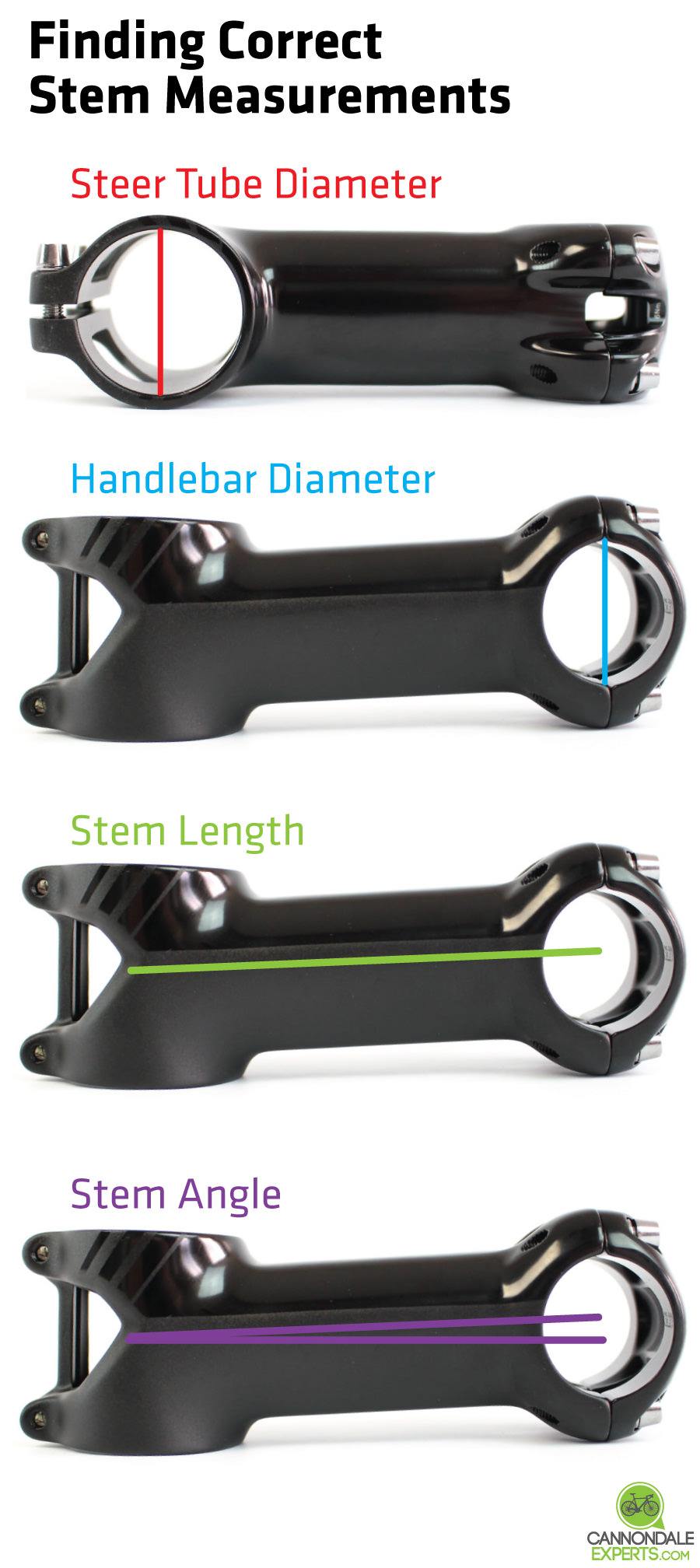 Finding the right stem for your bike can be a little bit tricky so this guide will help you sort out what you need. There are 4 dimensions you need to check to make sure you get the correct stem.
1. Steer Tube Diameter
| Standard Name | Measurement – Metric | Measurement – Inches |
| --- | --- | --- |
| 1 1/8″ | 28.6mm | 1.25″ |
| 1.5″ | 38.1mm | 1.5″ |
| Headshok Size | 39.68mm | 1 9/16″ or 1.56″ |
This is the diameter of the top of the fork or steer tube where the stem clamps on to the fork. See the red line above.
These are the three most common size of threadless steer tube sizes used on Cannondale bicycles. Very old vintage bikes may have used quill style stems with threaded headsets which is not addressed on this page.
Common Sizes
Headshok Size: Until about 2014, almost any Cannondale mountain bike with a Cannondale Headshok or Lefty fork used a Headshok size stem which is a proprietary size to Cannondale. All Headshok stems use a Headshok size stem.
1.5″ Size: With the introduction of the SuperMax Lefty, Lefty 2.0, and Lefty Oliver, Cannondale has switched to 1.5″ steer tubes. While 1.5″ is close to 1.56″, Headshok size is significantly larger in diameter and is not interchangeable. Some bikes in the early 2010's used 1.5″ steer tubes on Fox and other suspension forks.
1 1/8″ Size: Most road, recreational, and entry level road bikes use 1 1/8″ steer tubes. Tapered steer tube forks also use 1 1/8″ stems even though the steer tube is larger at the bottom. RockShox, Fox, and others use tapered steer tubes frequently so a 1 1/8″ stem is needed on those bikes.
---
2. Handlebar Diameter
The handlebar clamp diameter is the diameter where the stem clamps to the handlebar. There are three common sizes: 25.4mm, 26.0mm, and 31.8mm. See the blue line above.
In the early 2010's, an overwhelming majority of handlebars standardized to the 31.8mm stem diameter for just about every kind of bike. This was called 'Oversized' for many years. Very few Cannondale bikes use anything other than 31.8mm handlebars and stems.
Earlier, smaller sizes are sometimes used on entry level or recreational bikes. 25.4mm is the size used on flat handlebars for some mountain and recreational bikes. 26.0mm was used on drop style handlebars on road bikes. A subtle difference, but different enough that they are not interchangeable.
Almost all of the stems we sell today have 31.8mm handlebar clamps.
---
3. Stem Length
The stem's length is the distance between the center of the steer tube clamp and the center of the handlebar clamp. See the green line above.
The length is the extension. Frequently riders will want a shorter stem so they don't have to reach as far out so they can sit up higher or more comfortably. Stem rise angle and length work together to determine where the handlebar sits in relation to the rest of your bike.
On Cannondale Lefty 1.0 forks, generally 90mm is the shortest stem length possible before the handlebar would contact the top of the Lefty. Lefty 2.0 and SuperMax forks have been change to accommodate down to 60mm stem generally without interference.
Changing a stem's length by just 10 or 20mm can have a dramatic impact on how you fit on your bike to give you more comfort or control on  your bike.
---
4. Stem Angle
The stem angle is the change in rise from the center of the steer tube clamp to the center of the handlebar. See the angle between the two purple arrows above.
Many stems have 5-7 degree angle to them. Most stems can be used upside down for a -5 to -7 degree drop or upright for a +5 to +7 degree rise.
The highest rise on most Cannondale stems is 20 degrees. The image below shows the difference between 5 and 20 degree angles in a stem.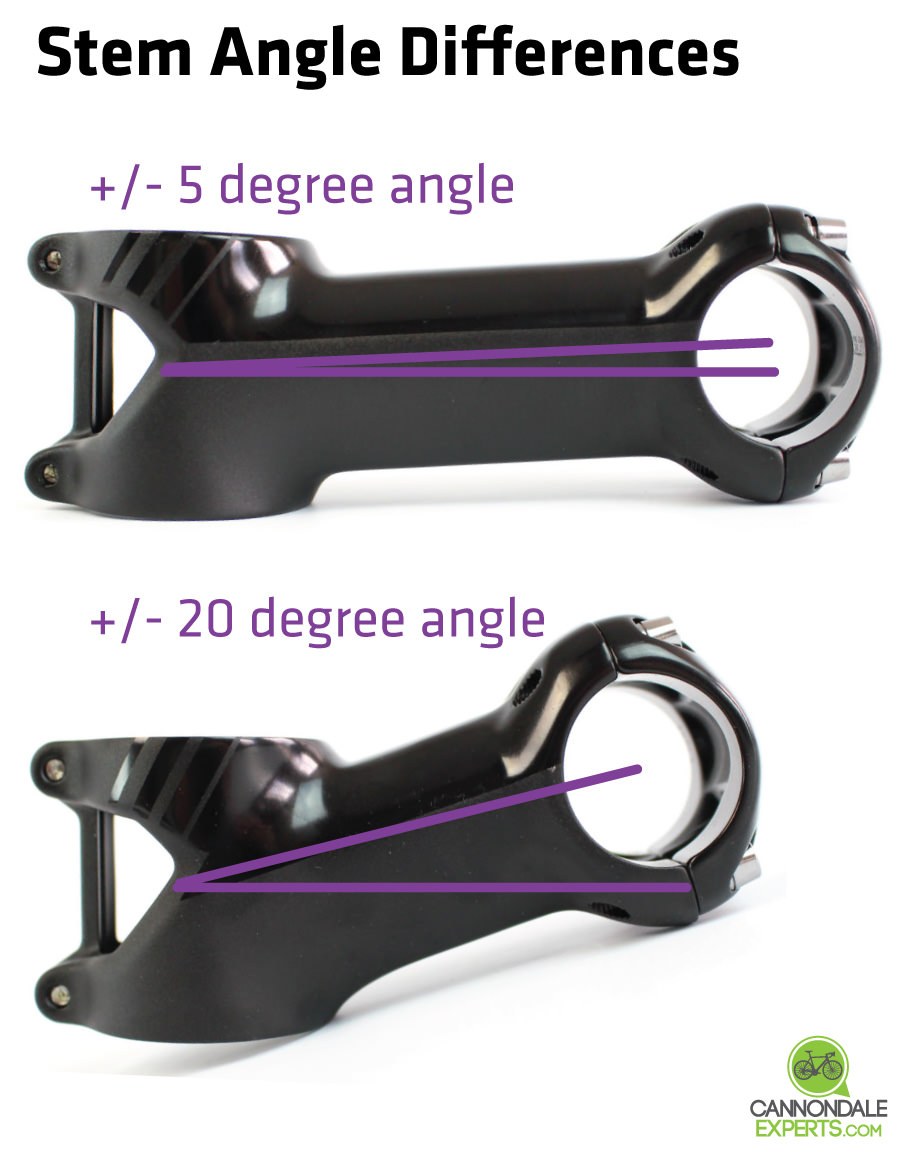 ---
Links to Stems at CannondaleExperts.com