UPDATE: A full guide has been posted with a chart as to which headset you need for your frame and fork. Take a look now!
https://www.cannondaleanswers.com/definitive-guide-cannondale-frame-headset-fork-compatibility-for-mountain-bikes/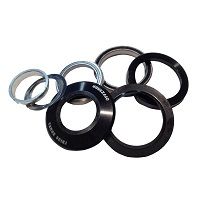 If you have a Cannondale frame with integrated headset cups, meaning it is the SI headtube and is Lefty/Headshok compatible, there is a headset available from Cannondale to make the conversion to a tapered steerer traditional fork from Fox, RockShox, etc.
The KP205 has the same outer diameter as the Headshok bearings and head tubes, but tapers the bearing down at the top to 1-1/8″ and the bottom to 1.5″.
If you are trying to reduce down to a 1-1/8″ straight fork, the headset you need is KP058. If you are trying to reduce down to a 1.5″ straight fork, you need a KP119. Until late 2012, the only way to get a tapered fork setup is to take the top half of the KP058 and bottom of KP119 and make one headset out of it.
[do action="cannondale-experts-search" searchterm="kp205"/]
[do action="cannondale-experts-search" searchterm="kp058"/]
[do action="cannondale-experts-search" searchterm="kp119"/]